The most important date in everyone's life is their birthday…if that is true, let's make this our number one priority in the 7+ ESSENTIALS.
You need their birthdate, and you need to have it in myClients for the 7+ ESSENTIALS Program to work for you. So, let's make it a goal that within the next 90 days, you have at least 75% of the top 150 people with dates in myClients.
First, identify all the people in your database that you don't have their birthdays, but you do have cell phone numbers. One of the fastest ways to get the most birthdates is with a simple text message.
Now, you'll need to text individual the message below: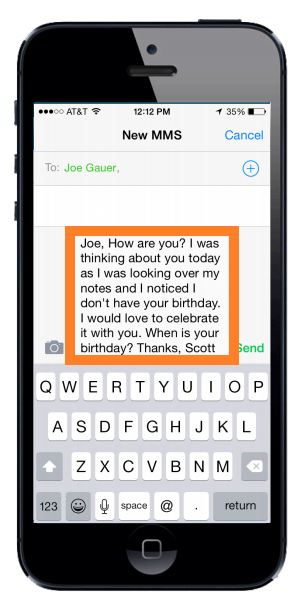 That's all...
For Each Person Who Responds With Their B-Day, Send This Follow Up Text…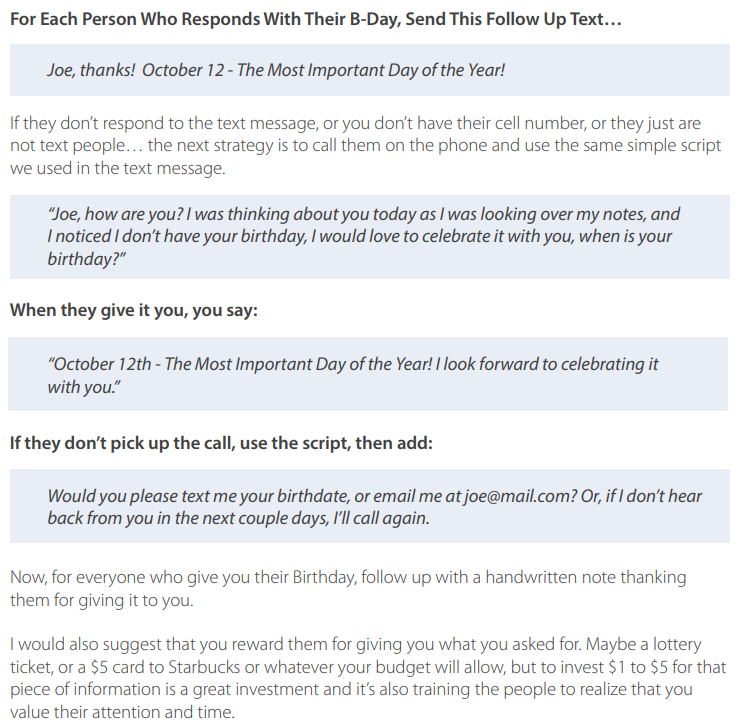 Now, for everyone who give you their Birthday, follow up with a handwritten note thanking
them for giving it to you.
I would also suggest that you reward them for giving you what you asked for. Maybe a lottery
ticket, or a $5 card to Starbucks or whatever your budget will allow, but to invest $1 to $5 for that
piece of information is a great investment and it's also training the people to realize that you
value their attention and time.
If you'll be calling instead, please use the script below:
Consultant: Hi (name), this is Mario, do you have time for a quick call…3minuites? 
Contact: Yes, I do!
Consultant: The reason I am calling is that I've made a commitment to recognize my family and friends' birthdays and I realized I do not know your birthday. When's your birthday, I don't need the year?
Contact: My birthday's coming up, it's October 9th
Consultant: Great! What's the best email to send you a nice birthday wish?
Contact: you can email me on myemail@myemail.com
Consultant: And what's the best address to mail you a nice birthday gift?
If you need additional help:
Please contact your Support team:
We are happy to help :)
support@byreferralonly.com
800-950-7325 Ex 3401