Reminding Your Clients Of Possible Turbulence With A Letter
PURPOSE
This letter strategy is designed as a follow-up touchpoint after your Initial Consultation appointment.
To remind your clients that there may be turbulence during the transaction.
To demonstrate a commitment to world-class service during the transaction.
BENEFITS
Helps clients stay calm and focused by reminding them that turbulence is a normal part of the buying, selling and borrowing process.
Encourages clients to look to you for leadership in the event of turbulence.
Exhibits consultant behavior, making you more referable.
STEPS TO SUCCESS
The best way to learn and implement this strategy is to review the information twice:
First to understand the overall process.
Then to follow the instructions step by step.
Getting Started
Schedule Remodel Time to develop your Turbulence Letter process.
Access the 88 or 80 Types of Turbulence handout list located at the bottom of this page.

Download and print the list to include with your letter.

Play the video tutorial below to learn how to access the Turbulence Letter, how to edit the letter, and how to mail merge the letter to your current client/s in myClients.
Sample Turbulence Letter.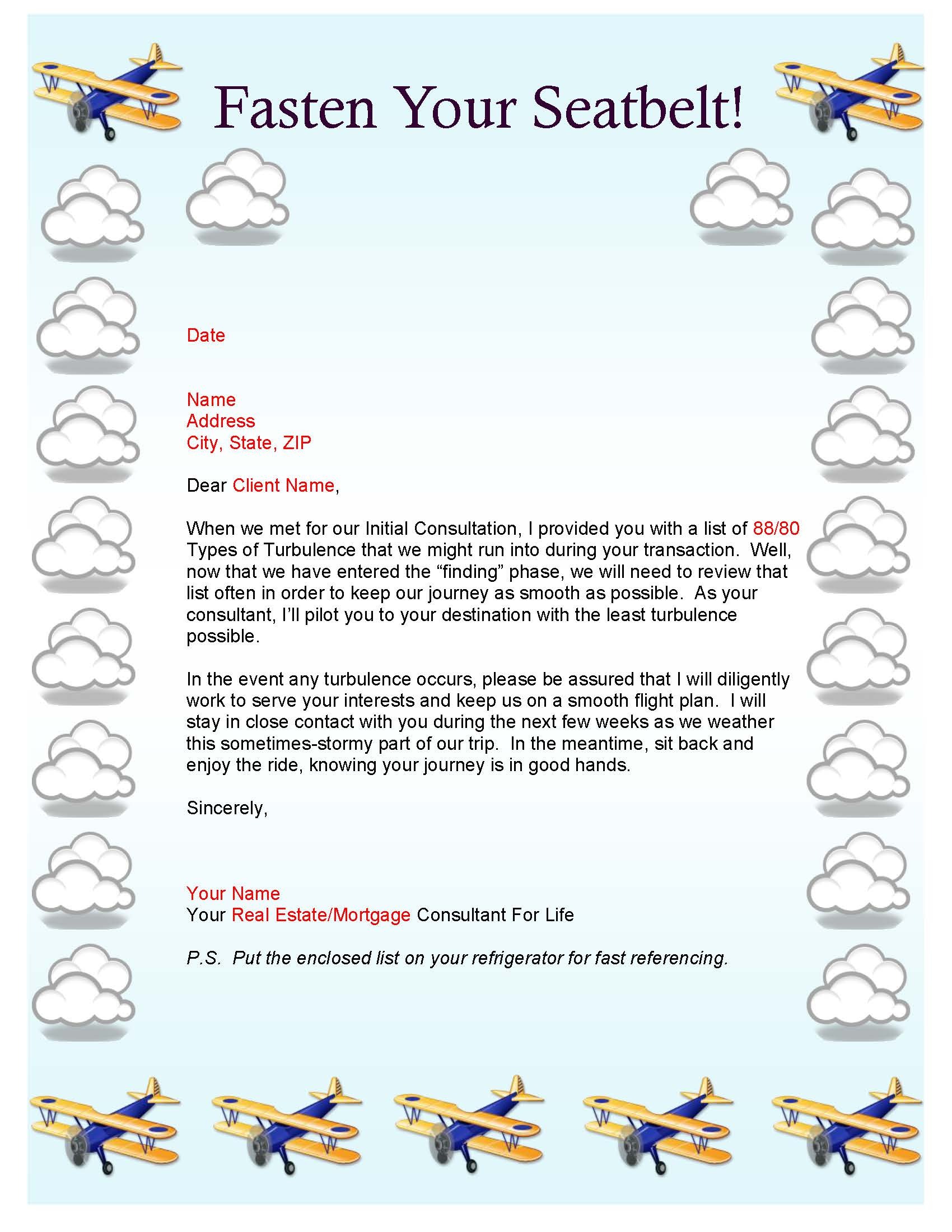 Implementing Tips
Print the letter on decorative stationery. (Cloud or airplane themes work well.)
Sign the Turbulence Letter and include a copy of the Types of Turbulence List in the envelope.
Mail your Turbulence Letter with first-class postage.
Following Up
When turbulence arises, follow up the letter with a telephone call. You could say, "John, hi. It's Bob Smith. Do you have that Types of Turbulence list handy that I included in my recent letter? Great. Take a look at number 44. Remember when I said…"
SUCCESS INDICATORS
You get a positive response to your letter.
YOUR INVESTMENT
Decorative stationery.
Matching envelopes.
First-class postage.
Paper, rubber, or wood airplanes.
Guillows Balsa Airplane Jetfire Glider Plane Toy Party Favor Lot Of 6
PLANTERS Salted Peanuts, 1 Oz. Bags (48 Pack)
WANT MORE?

Scripts: What I do For You Scrip
88 Types of Turbulence List
80 Types of Turbulence List (Canada)